Planning is something that I (Dan) always hated doing growing up. It felt like a time suck, and I never actually implemented my plans. As I've gotten older, this has changed. Mikayla and I have gotten better at planning, and we've actually held a weekly planning session every week over the past 2 years. Here's how that looks.
Have a checklist. A checklist helps keep you focused and on track while moving you through items that need to be discussed.
Here's what our weekly planning check list looks like: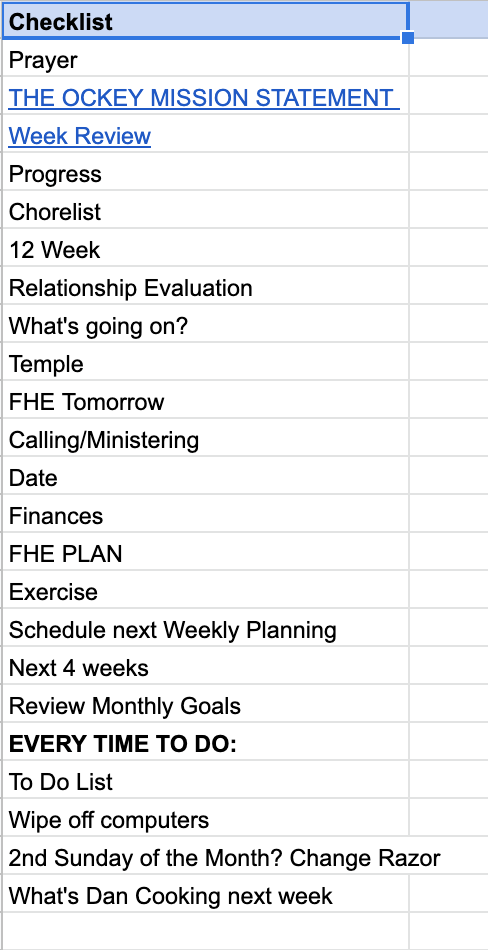 We pray at the beginning, read our family mission statement and then go through the rest of the list. We keep track of the most important events in our lives to make sure we're being consistent. This includes personal study of our religious texts, exercise, making sure we're being social and going on a date.

It's really neat to be able to look back over a month/year period and see what we were consistent in and where we need work. Having a weekly planning session allows you to discuss where improvement needs to be made and more!
After tracking and recording everything, we do a relationship evaluation and discuss the personal aspects of our relationship. It's a good time to check in with one another and how we're feeling withe life in general.
Next is all of the logistics. When are we going to worship in the religious temple? Who are we inviting over next week to share our family night with? Is there anything that will interrupt our weekly planning session next Sunday?
Taking 30 minutes to go through this checklist allows us to be on top of all we have to think about and make sure the most important things to us actually happen.
We do the same thing with our finances, Centsei, Monthly Planning, Quarterly Planning, and Yearly Planning.
Try it! It may take a little bit to become consistent, but we know it will make your life better!